Pet Pain Management with Your Livonia Veterinarian
Life can occasionally be painful for anyone, and your pets are no exception. But how you deal with your own pain, and how you handle your pet's discomfort are often very different. While you may deal with a headache, muscle or joint soreness by taking medicines from your local drugstore, using those same medications on your pet can cause serious illness or death. That's why if your pet is in pain it is important to seek the advice of your Livonia veterinarian to assure you have the correct type of medication that will not compromise your pet's health and at the same time will be effective in treating their pain. At Sheehy Animal Hospital we take your pet's discomfort seriously and do our best to prevent and reduce pain whenever it is possible.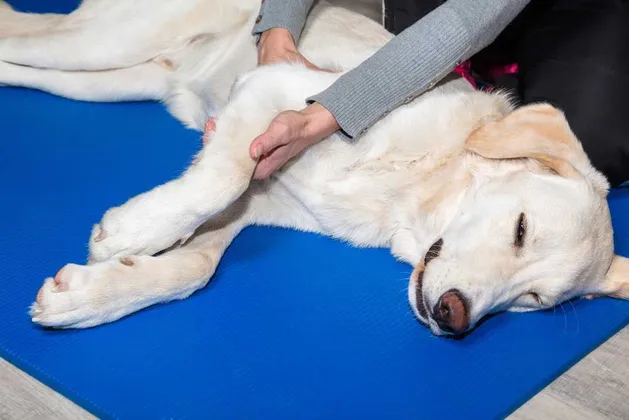 Helping Your Pet Deal With Pain
How pets react to pain depends largely on their own personalities, so if the possibility of pain exists, it is important for pet owners to watch for signs in order to get their pet the proper medication or treatment they need from our veterinarian in Livonia, Michigan. Some signs that your pet may be in pain include
General changes in personality
Excessive panting
Unusual vocalization
Changes in appetite
Reluctant to move
Post-Operative Pain
One of the most common causes of pain is the pain that is experienced after surgery. With humans, studies have proven than proper post-operative pain management can make a big difference in recovery. The same is true for most pets, because veterinary science shows that all mammals, including humans, cats, dogs, and more experience pain in similar ways. Higher pain levels are more than uncomfortable, they contribute to stress levels which may slow the healing process.
Other Causes of Pain in Pets
Besides pain that might be experienced after an operation, pets may also experience pain because of an illness such as cancer or another health condition such as arthritis or they may have spinal related pain.
Osteoarthritis
Osteoarthritis is painful due to the breakdown in joint cartilage that results in bone on bone contact. Treatment focuses on preserving cartilage. This is done largely through weight management, providing joint protectant medication. While NSAID medication is sometimes an option, it is not the preferred option for older pets, as it may cause problems with digestion, the kidneys or the liver. Instead physical rehabilitation methods including underwater treadmills, balance balls, wobble boards, and low level laser therapy are often implemented in addition to a home exercise program. Additional options for pain management may include stem cell therapy, myofascial needle therapy, and acupuncture.
Cancer Pain
Cancer pain in a dog or cat, especially from bone cancer may be treated by both treating the cancer, and by using multimodal pain relief options such as combining NSAID with tricyclic antidepressants. In addition certain chemotherapy and radiation may address the cancer itself, and may help with the pain.
Learn More About Pain Management from Our Livonia Veterinarian
If your pet is feeling discomfort for any reason, whether they have suffered an injury, are ill, have had surgery, or for any other reason our Livonia veterinarian at Sheehy Animal Hospital is committed to finding the best way to treat that pain in order to restore your pet's quality of life. Contact Sheehy Animal Hospital in Livonia, Michigan at (248) 615-7670 to schedule an appointment.