Dogs and cats can suffer from dermatology issues due to several different reasons. If your pet is currently having skin trouble, contact Sheehy Animal Hospital in Livonia to make an appointment with one of our veterinarians for pet care. Our animal hospital provides veterinary care for domestic and exotic animals. Below are a few of the common skin issues that we see on our patients.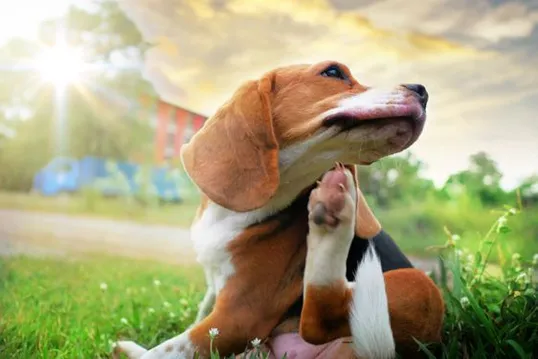 Missing Fur
Missing fur may be an indication that your pet is suffering from a skin problem. Check the skin to see if you notice any raised bumps or lesions. If your pet has itchiness of the skin, he or she may bite or scratch at the affected areas. This would cause the fur to fall out. Missing fur also occurs when pets have anxiety issues, so it is best to seek veterinary care as soon as you notice missing fur.
Skin Rash
A skin rash requires treatment for it to go away completely. If you do not treat the rash, there is a chance it will spread across the skin from body part to body part. If your pet's skin feels bumpy, it is best to seek treatment to determine the cause for this reaction.
Allergic Reaction
If your pet has a skin allergy, he or she will likely suffer from several symptoms as a result. This includes a rash, broken skin, skin dryness, or itchiness of the skin. Some pets have this type of reaction when they eat food they are allergic to or if they come into contact with a chemical agent. In addition to treating the skin issue, our veterinarian will also help track down the trigger of the allergic reaction so it can be avoided in the future.
Skin Dryness
When an animal has dry skin, it is usually accompanied by itchiness. If your dog or cat is constantly scratching, and you see flecks of dry skin within the coat, treatment is needed. Refrain from bathing your pet as this will deplete the essential oils in the skin, making the problem worse. A prescription shampoo may be necessary to alleviate the symptoms.
Parasites
If your pet has fleas, skin problems may also be present. Fleas cause allergic reactions for many cats and dogs. Your pet will suffer from extreme itchiness and welts upon the skin. The flea problem needs to be eliminated before the skin issue can be addressed. In many instances, the skin will heal after fleas are no longer an issue.
Pet Skin Care in Livonia, MI
If your pet is suffering from a skin problem, contact Sheehy Animal Hospital in Livonia to meet with one of our veterinarians. Whether you have a domestic animal or an exotic pet, our Livonia animal hospital is here to provide premier pet care. Call our office today at (248) 615-7670 to find out more about skin care or any of our veterinary services.