Frequently Asked Questions About Pet Dental Care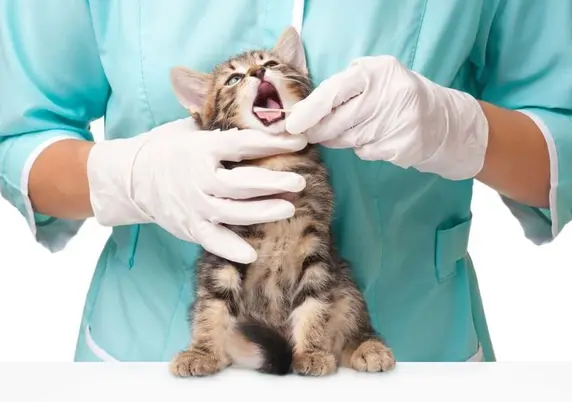 The inside of a pet's mouth can be a mysterious place, especially if you're new to the world of pet ownership and you're still trying to sort out your pet's health and wellness needs. Here are some answers to frequently asked questions about pet dental care here at Sheehy Animal Hospital.
Do pets have the same dental issues as humans?
Pets' teeth, jaws, and oral tissues have many anatomical similarities to those of humans, so they do indeed encounter many of the same dental and oral challenges. These may include periodontal disease, tooth damage or other injury, gum/tooth/jawbone infections, and oral cancer.
What is periodontal disease?
Periodontal disease is the most common dental problem afflicting pets. This disease of the gum tissue surrounding the teeth begins when bacteria attracted to plaque and tartar set off an inflammatory reaction. Your pet may experience severe oral pain or even lose his teeth from this disease.
My pet has a cracked/broken tooth. Should I worry?
If you've ever had a cracked or broken tooth, you know how painful it is when the tooth's nerve is exposed. Additionally, the opening in the tooth allows bacteria to enter, possibly causing root canal infections and abscesses of the jaw. Sometimes this bacteria can even find its way to a pet's vital organs.
How can I recognize dental/oral problems?
Check your pet's mouth periodically for telltale signals such as foul breath, blood or pus on the gums, obvious tooth damage, and any unfamiliar-looking spots or lesions. Some pets suffering from dental pain will have trouble eating and resist pats on the head. Oral cancer may be very hard for owners to spot -- and this is worrying because it's a fast-moving, deadly disease.
How do regular exams and cleanings help?
Regular dental exams incorporated into your pet's preventative overall wellness routine allow our Livonia veterinarian, Dr. Sheehy, to catch any dental or oral issues as early as possible. Professional cleanings under anesthesia let us get that tough tartar off of your pet's teeth to discourage bacteria from accumulating near the gums.
How often should a pet have a dental exam?
Most healthy adult pets should have a dental exam once a year. A pet struggling with a known dental or oral problem may need more frequent checkups. Senior animals, and certain breeds that are especially prone to dental problems, may need two exams per year.
What happens if you discover a problem?
Don't fret if we discover a dental or oral problem in your pet. Early detection enables us to recommend and administer the necessary treatments right away. We can tame infections, extract diseased or damaged teeth, and perform oral surgery and other procedures to combat oral cancer.
Get More Answers From Our Livonia Veterinarian
The best way to get your pet dental questions answered is to schedule a dental examination for your furry friend. Call our Livonia veterinarian at (248) 615-7670.