Pet Ultrasound at Sheehy Animal Hospital
Just as ultrasounds are important diagnostic tools used by human doctors, they are also important for your Livonia veterinarian to provide the best pet care. We know your pets are like family members, so we treat our patients with the same care and tools used by human doctors to create the most accurate diagnosis. With the information from an ultrasound, we can find the best treatment for your furry family member.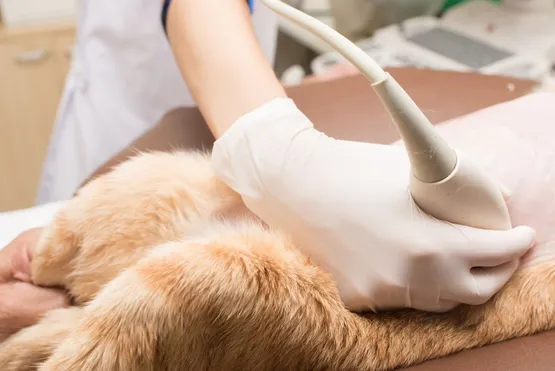 What is Pet Ultrasound?
A pet ultrasound exam doesn't hurt. You won't have to worry about radiation exposure with an ultrasound as you would with x-rays. This non-invasive test uses sound waves to create an image of your pet's tissues. Soundwaves travel through solid skin and tissue and bounce back.
Most Common Reasons Why a Vet Would Use Ultrasound
An ultrasound is not a treatment method but a diagnostic tool. It gives us a clearer picture of what is going on inside your pet. We may recommend an ultrasound if blood tests and a physical exam suggest a problem. Issues we can investigate with an ultrasound include loss of appetite, unknown masses, pregnancy, unexplained diarrhea or vomiting, urinary problems, or genital problems.
The ultrasound informs us of what the next steps in the treatment plan should be. We can decide whether surgery or biopsies are needed. It also helps us to see what's inside your pet prior to surgery.
How Do You Prepare Your Pet for an Ultrasound?
One thing to remember about ultrasounds is that the sound waves cannot pass through air. This means the examination area will need to be shaved before the procedure. Air trapped between hairs could interfere with the results. Stop feeding your pet 12 hours before the procedure. This prevents gas from getting into the digestive system with the food. Allow your pet to freely drink water, though. A full bladder gives us a better view of the structures behind it.
What to Expect During a Pet Ultrasound
Since the procedure is painless and only takes a few minutes, most pets don't need anesthesia. We coat the area with a little gel and press a wand against the area. Slowly dragging the wand over the area allows the machine to create an image of your pet's organs. We may discuss the results with you that day or later if we have to take a closer look at the ultrasound or consult with a radiologist.
Is Ultrasound Safe for Pets?
There is nothing but sound used in an ultrasound, so there is no danger for your pet. It's safer than x-rays, which expose your pet to radiation. The ultrasound not only is safe for all pets, but it's also a powerful diagnostic tool we can use to create the best treatment plan possible.
We Want to Give Your Pet the Best Treatment
Let us be your Livonia veterinarian of choice when your pet needs an ultrasound. Sheehy Animal Hospital is here to help you and your pet get the best treatment possible. Schedule your appointment today by calling (248) 615-7670.